By using two GNSS (GPS/GLONASS) antennas, the VBOX 3i Dual Antenna (VB3iSL) measures all the normal VBOX GPS parameters, plus the azimuth and elevation between the antennas, i.e. the direction the antennas are pointing, and the angle between them measured from the horizontal. This allows the unit to measure slip angle, and also pitch angle (or roll angle depending on how the antennas are mounted), all at 100 Hz. This system is ideal for vehicle dynamics testing.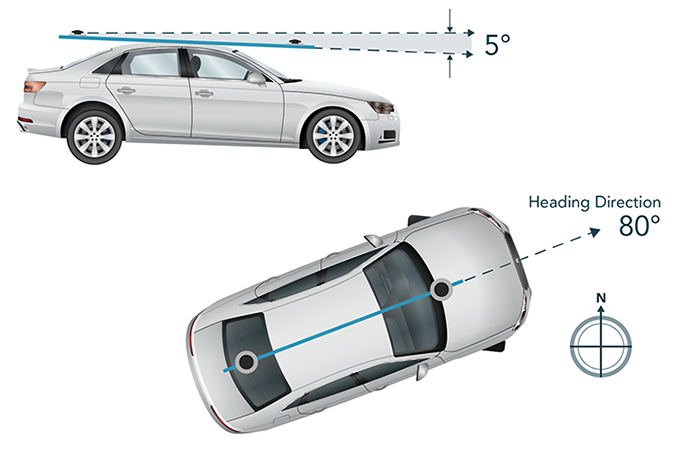 The VBOX 3i Dual Antenna also comes with VBOX Manager, a display enabling you to change the dynamic modes and filter settings, set up slip angle data and define antenna locations. An optional dual antenna mounting pole (max. width 2.5 m) for the roof of the vehicle ensures the most accurate attitude measurement.
Using an Inertial Measurement Unit (IMU) with a Dual Antenna setup
The VBOX 3i is our flagship data logger and offers support for an inertial measurement unit, such as the VBOX IMU, which features a Kalman Filter. This can be used to process the heading parameter and give a cleaner heading with lever arm compensation, which can be seen by comparing heading to raw heading. This 'cleaner' heading parameter is then used in the slip angle and translated slip. 
True heading is not processed by the Kalman Filter, however the VBOX 3i Dual Antenna will use the IMU's yaw rate during translated slip angle calculations. The IMU yaw rate has a lower noise level than the dual antenna yaw rate, resulting in a cleaner translated slip angle measurement parameter set.
Note, this will not have any impact on the standard slip angle channel as it does not require yaw rate for the calculation. Also note that the Kalman filter does not need to be enabled to get this additional benefit.
Using an Inertial Measurement Unit (IMU) with the VBOX 3i Dual Antenna provides highly accurate measurements of speed, distance, heading and yaw rate, for applications such as testing Electronic Stability Control with a steering robot.