VBOX Vehicle Testing Products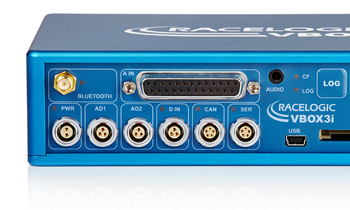 Many aspects of vehicle testing can be conducted using a VBOX data logger, from simple performance evaluation to complex development of the latest ADAS applications.
Differential GPS and RTK solutions allow for high positional accuracy, and inertial measurement integration increases the testing scope further.
VBOX GPS data logging products vary from the 10 Hz VBOX Mini, an easy to use but highly capable unit perfect for simple testing and lap timing; through the SX range which brings together survey-grade GPS engines and CAN Bus logging; to the VBOX 3i which logs at a true 100 Hz, is available in single and dual antenna variants, and which forms the basis of the VBOX ADAS testing packages.
For those who need a high accuracy speed signal to augment an existing testing setup, the VBOX Speed Sensors connect via CAN, digital, or analogue interface to your own data logging equipment at between 5 Hz and 100 Hz.
All Speed Sensors feature an IP66 billet aluminium enclosure and Deutsch motor sport style connector, and represent the ideal solution for those that require speed, position, braking distance, or acceleration data without the need for internal logging.
All Speed Sensors are compatible with our DGPS Base Station for increased positional accuracy, and the dual antenna variant adds slip and pitch/roll output at 100 Hz.
As well as capturing GPS and CAN data in the same way as a standard VBOX data logger, the VBOX Video also record GPS time-synchronised video. This footage can be enhanced with data-driven graphic overlay, allowing for clear presentation of key test parameters.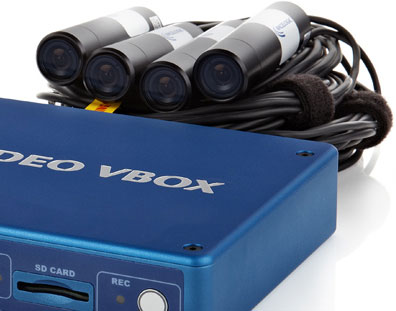 Adding video to testing, validation, and development is a powerful method of both analysing and presenting your results. Many automotive ADAS (Advanced Driver Assistance Systems) tests benefit from the addition of a VBOX video data logger, configured to display vehicle separation values from both the GPS and vehicle readings, allowing for straightforward assessment of the technologies being developed.
The Video VBOX and VBOX Video HD2 are very successful within motorsport (see also vboxmotorsport.co.uk), where they are used by a great many driving coaches and racing drivers in analysing their on-track performance.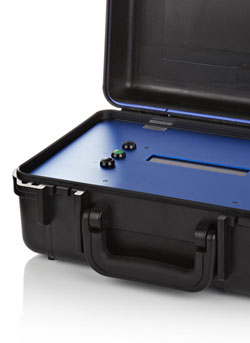 Wireless communication between VBOX products often forms an essential part of our customer's testing requirements. This may take the form of a Bluetooth connection to a tablet PC for live data output; for transmitting DGPS correction messages to a roving VBOX unit to obtain high positional accuracy; or for the exchange of GPS measurements from one VBOX to another in open-road testing during the development of a vehicle's safety systems.
When choosing the correct telemetry system it is often necessary to speak to your VBOX distributor to determine which units will best suit your application – both in terms of range and bandwidth, and local laws governing radio transmission.
The range of VBOX input modules allows for data capture from test vehicles and increases the functionality of our data loggers. Analogue, frequency, CAN, and thermocouple signals are integrated into GPS data and a combination of module channels can be recorded simultaneously. Our Inertial Measurement module outputs pitch/roll and yaw data as well as providing a smoothed GPS velocity signal when used in unfavourable conditions.
VBOX output modules convert from one signal type to another for use by third party data loggers.
Input and output modules can be used in standalone form, for connection to equipment other than VBOX systems.
VBOX displays offer a variety of real time results feedback and unit setup. The advantage of using a display is the speed and convenience of altering test parameters or verifying data during the procedures themselves; sometimes the ability to abort a run, often only possible when in-vehicle viewing of data is available, can greatly reduce the amount of track time required.
VBOX displays range from full tablet PC, to LCD multifunction, to speed and lap timing units.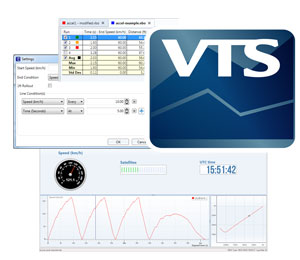 VBOX Test Suite is our next generation of data analysis software. Its intuitive interface is accessible for all users from engineer to test driver, making the process of recording and analysing your test data as quick and easy as possible.

Application-specific plugins enable you to complete your tests more efficiently than ever before, whether you are working in autonomous validation, vehicle development, certification, homologation, benchmarking or dynamics.
The full spectrum of add-on and replacement products: antennas, batteries, triggers, light barrier kits, mounting arms, switches, cables, and cases.