Overview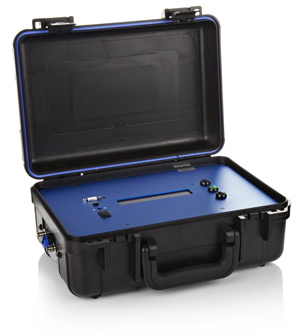 The RACELOGIC DGNSS RTK Base Station is designed to improve positional accuracy of VBOX units and other compatible GNSS systems by calculating and transmitting differential correction data.
By programming the Base Station with a known position, it is able to accurately monitor the difference between its known position and the position that it is calculating from GNSS satellite signals.
The difference is then transmitted via radio to allow a remote GNSS system to correct its position.
The differential correction message can be broadcasted in RTCM v2, RTCM v3, RTCM v3.2 MSM4 (VBBS6 only), RTCM v3.2 MSM7 (VBBS6 only), CMR (VBBS5 only), or proprietary RTK formats using an internal or mast mounted radio modem transmitter.
Depending on the type of roving unit used, position accuracies of up to 2 cm 95% CEP are available.
Features
Survey grade multi-band receiver with either L1/L2 (VBBS5) or GPSL1/L2/L1C/L2C, GLONASS L1/L2, Galileo E1/E5a/E5b, BeiDou B1/B2 (VBBS6)
LCD readout for status and configuration
Optional integral or mast mount radio transmitters with range of up to 10 km (approx. 6.2 miles) line of sight and 2 km in built-up areas
Compatible with wide range of radios to suit location and range requirements

Up to 2 cm accuracy
RTCMv2, RTCMv3, CMR, RTCM v3.2 MSM4 and MSM7,or proprietary outputs (version-dependent)
25-position memory to store and recall different reference locations
Self-survey mode
Up to 18hr battery life (depending on radios in use) or external power
Rugged IP 64 (splash proof) enclosure
The table below lists the VBOX and Base Station combinations required to achieve a specific accuracies. For a more detailed overview, including legacy products, please refer to: https://racelogic.support
Accuracy
40 - 80 cm
± 2 cm
± 2 cm
Message Type
RTCM v2
CMR
RTCM v3
RTCM v3.2 MSM4
RTCM v3.2 MSM7
Base Station
BS5/ BS6
BS5/ BS6
BS6

VBOX Data Loggers


VBOX Mini
VBOX 3i
VBOX 3i Dual Antenna
VBOX 3i RTK (VB3iSLR)
VBOX Touch


VBOX Sensors

5Hz Speed Sensors
10Hz | 20Hz Speed Sensors
100Hz Speed Sensors
100Hz Speed Sensor RTK
VBOX 3iS
VBOX 3iSR

VBOX Video Loggers


Video VBOX Pro
VBOX Video HD2
Video VBOX Lite

= Compatible


= Not compatible
Inputs/Outputs
Rugged Splash Proof Case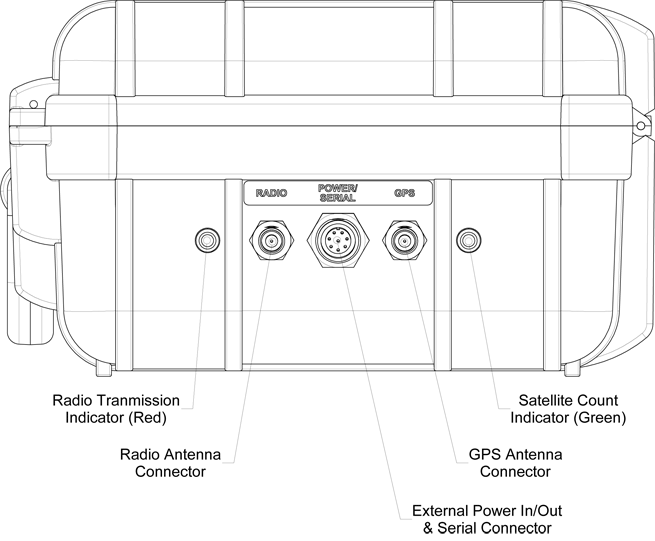 Inputs
GNSS Antenna
Connects to the Base Station via screw-on TNC connectors and must be placed in a position away from any other obstacles that could cause satellite signals to be blocked or reflected. Wherever possible, place the GNSS antenna and tripod (needs to be ordered separately) at the highest available spot to ensure the best un-affected satellite reception.
Power
Power can be obtained either from the internal battery supply or from an external source via a front panel (using the supplied mains power supply, or via an external waterproofed connector from a suitable 8-30 V DC supply).
Outputs
Front Panel Interface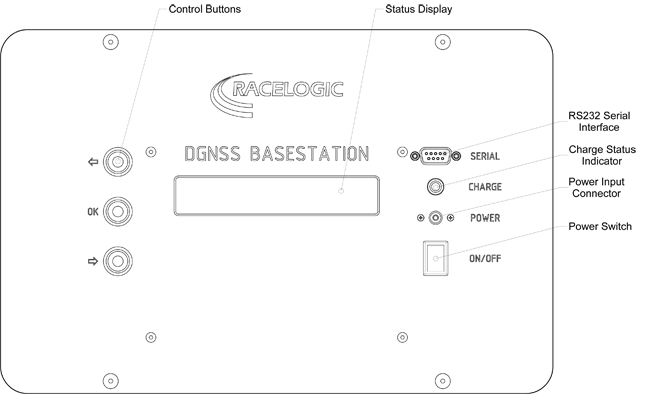 Display
Indicates the operating status of the Base Station.
RS232 Serial Interface
Used for updating the operating firmware of the Base Station using a PC or porting to the GPS engine or radio modem for update of firmware or manual configuration changes.
Power
A power input connector for charging the Base Station internal battery using the supplied mains adaptor.
Specs
Specs
Temperature

Storage: -40°C to +50°C
Operating: 0°C to +45°C
Battery fast charge: 10°C to +50°C

Power

Battery life: Up to 18hr (depending on radios)
Input voltage range: 8-30 Volts
Input current operating and ...
charging @19V: 2.25 Amps
not charging @19V: <0.5 Amps

95% Circle Error Probable (CEP)

RTCM 40cm Mode: <0.40m
Racelogic 20cm Mode: <0.20m
Racelogic 2cm Mode: <0.02m
CMR 2cm Mode: <0.02m

Radio Modems (more info here)


Frequency – Europe: 868 MHz
Frequency – All other countries: 915 MHz
Frequency – Satel: 430 MHz
Frequency - 2.4 GHz

Output Messages


Depending on Base station version. Please see datasheets here.

Memory

GPS position: 25 location