Overview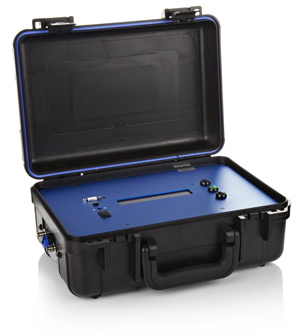 The RACELOGIC DGNSS RTK Base Station is designed to improve positional accuracy of VBOX units and other compatible GPS/ GLONASS systems by calculating and transmitting differential correction data.
By programming the Base Station with a known position, it is able to accurately monitor the difference between its programmed position and the position that it is receiving via GPS/GLONASS.
The difference is then transmitted via radio to allow a remote GPS system to correct its position.
The differential correction message can be broadcasted in RTCM, CMR or proprietary RTK formats using an internal or mast mounted radio modem transmitter.
Depending on the type of roving unit used, position accuracies of up to 2 cm 95% CEP are available.
Features
Survey grade GPS/GLONASS receiver with L1/L2
Integral 9 Ah battery supply with fast charger
LCD readout for status and configuration
Optional integral or mast mount radio transmitters with range of up to 10 km (approx. 6.2 miles line of sight) and 2 km in a built up area
Compatible with wide range of radios to suit location and range requirements

Up to 2 cm accuracy
RTCM, CMR, RTCMV3 or proprietary outputs
25-position memory to store and recall different reference locations
Self-survey mode
Up to 18hr battery life (depending on radios in use) or external power
Rugged IP 64 (splash proof) enclosure
The table below lists the VBOX and Base Station combinations which are required for specific accuracies.
*legacy
SBAS DGPS
(WAAS/EGNOS)


RTCM DGPS
Base Station
BS2*/BS3*/
BS4*
'20cm' DGPS
Base Station
BS2*/ BS4*

RTK DGPS
Base Station
BS3G*/ BS4RG*/
BS5
± 1 m
accuracy
80-40 cm
accuracy
± 20 cm
accuracy
± 2 cm
accuracy

VBOX Data Loggers


VBOX Mini
VBOX Lite* | VBOX II DCF*
VBOX IIS* | VBOX IISX*
VBOX IISX Dual Antenna*
VBOX IISX Triple Antenna*
VBOX III* | VBOX 3i
VBOX 3i Dual Antenna
VBOX 3i units with RTK


VBOX Speed Sensors

5Hz Speed Sensors
10Hz | 20Hz Speed Sensors
100Hz Speed Sensors
100Hz Speed Sensor RTK

VBOX Video Loggers


Video VBOX Pro
VBOX Video HD2
Video VBOX Lite
Video VBOX Waterproof*

= Compatible


= Compatible with upgrade


= Not compatible