VBOX Test Suite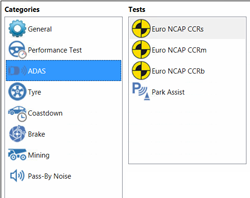 VBOX Test Suite is our next generation of data analysis software. Its intuitive interface is accessible for all users from engineer to test driver, making the process of recording and analysing your test data as quick and easy as possible.
Application-specific plugins enable you to complete your tests more efficiently than ever before, whether you are working in autonomous validation, vehicle development, certification, homologation, benchmarking or dynamics.
Using a clean workspace, multiple data sets can be compared and simultaneously examined. It does this by using separate tabs for each test, enabling you to compare different vehicles or set-ups without having to reset your test parameters each time, or search through multitudes of data on a single screen.
The software also uses context sensitive menus to make it easy for you to manage your data and can be used in either 'Offline' mode, for post-test analysis, or 'Online' mode so you can see your data in real-time.