VBOX Test Suite - Coastdown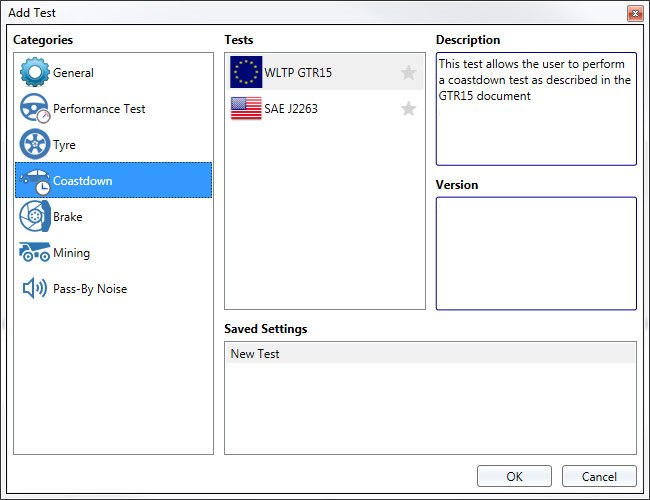 VBOX Coastdown software is a free plugin for VBOX Test Suite. You can download VBOX Test Suite here.
You can choose between two test standards, the European WLTP GTR15 and the American SAE J2263.
SAE J2263 Coastdown
The US SAE J2263 Coastdown standard has until now required highly complex post-processing work, as well as demanding the use of onboard anemometer readings. The VBOX Test Suite Coastdown plugin integrates the wind speed via an analogue signal into the VBOX itself, and produces a road force measurement that completely removes the need for heavy-duty, time consuming calculations after the track tests have been completed.
Test data provided:
Speed
Distance
Force
Wind speed

Temperature
Mechanical and aerodynamic coefficients
Road load curve using the equation of motion as specified in J2263 regulation
The video below highlights the functionality of the VTS Coastdown (SAE) plugin and shows how easy it is to use.
WLTP GTR15 Coastdown
Coast down testing to the new European WLTP GTR15 standard has pass criteria not just from a start to end speed, but also in 10 km/h decrements and in opposing directions. (For instance, a 115 km/h - 15 km/h test requires an overall result,, as well as from speeds of 115 km/h - 105 km/h, 105 km/h - 95 kmh and so on – with each section having to fall within a 3 % tolerance to pass). Test Suite automatically grades each section, of each individual run, and stitches each of the full runs together to form a comprehensive set of results.
Test data provided:
Average time
Produces real time accuracy figures using the latest GTR 15 WLTP procedures
The video below demonstrates a coastdown test to the GTR15 standard being carried out using VBOX Test Suite (no audio).