VBOX Test Suite - Brake Test Plugin
VBOX Brake Test is a test plugin pre-loaded into VBOX Test Suite.
Designed so that engineers can conduct brake stop testing that conforms to regulations specified in different regions, the brake test plugin is configured to produce results based on speed to speed parameters; or by a variety of alternative inputs - such as trigger, brake pressure or position values.
Regulation specific plugins such as ECE R78 (Motorcycle Brake Systems) and SAE J2909 (Light Vehicle Dry Stopping Distance) automatically calculate extra parameters specified in the regulations.
Currently available plugin variants are Trigger, Speed, J2909 and R78. Additional plugins will be added as they are developed.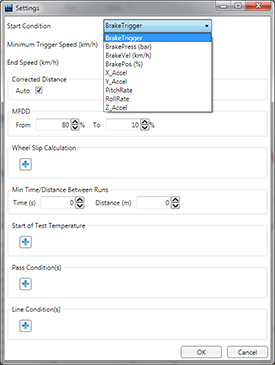 Tests can be run within a tightly defined set of criteria, such as between temperature ranges. Centreline deviation is automatically calculated during each run, and thresholds can be applied to ensure that the operative gets immediate feedback on the validity of results.
Auto calibration of wheel speeds
Wheel slip calculations
The plugin also produces a comprehensive report that includes all the relevant test results along with the engineer's notes.
Check our online tutorial on VTS Brake Test.
Download VBOX Test Suite here.