VBOX Vehicle CAN Interface
Overview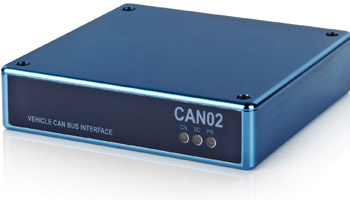 The VBOX Vehicle CAN Interface is a CAN gateway which translates from one CAN Bus into another. The unit is designed to recognise 16 different variables being transmitted on a CAN bus, and then re-transmits them in a form that the VBOX can log along with the normal VBOX channels.
The CAN Interface can be programmed to read almost any format in a CAN message, and then assign a name, multiplier, and offset. This information is then re-transmitted onto the VBOX CAN bus and is recorded at 20Hz to the compact flash card.
Transfer of VBOX data to the vehicle bus is blocked to prevent unnecessary Bus loading.
Racelogic can also supply CAN sets for a number of manufacturers, allowing various parameters to be logged. For an application list please see our CAN Database.

Features
Features
125Kbit, 250Kbit, 500Kbit and 1Mbit CAN rates
Up to 16 separate CAN parameters
Scale & offset data to record real values
Blocks VBOX data from vehicle CAN bus
Optional vehicle data sets available on request
Specs
Specification
Input Channels: 16 x CAN data channels from vehicle or other CAN bus
Input Data Type: From 1 bit to 32 bit; Intel/Motorola format; signed/unsigned; selectable start bit
Output Channels: 16 x CAN data to VBOX
Output Data Type: User configurable, scaling and offset adjustable to provide real values
Power Supply Voltage: +9 to +18 VDC
CAN Type: CAN 2.0A or CAN 2.0B compatible
Baud Rates: 125Kbits/s, 250Kbit/s, 500Kbit/s, 1Mbit/s
CAN Termination resistor on vehicle bus side: Not fitted
Configuration: Via VBOX/VBOX Tools or Standalone Module Setup Software
Dimensions: 128mm x 119mm x 30mm
Download or print datasheet here.