Overview
Many countries enforce pass-by noise legislation on the maximum noise emission limits of different types of vehicles. Racelogic provides Pass-By (or Drive-By) Noise testing equipment to log channels such as Engine RPM, vehicle velocity and maximum vehicle exterior noise on various types of vehicles, according to procedures defined by international standards such as ISO 362.
VBOX Test Suite has been enhanced to include Pass-By Noise plugins allowing development programs to be completed to the ECE R41 (motorcycle) and R51 (automobile) standards, prior to homologation testing.
The user can enter session-specific information that defines test conditions and vehicle details, including the requirement of kerb mass, power, idle rpm and rated engine rpm. This information is automatically saved to the log file and so only needs to be entered once; it can also be exported for use in another file, saving setup time.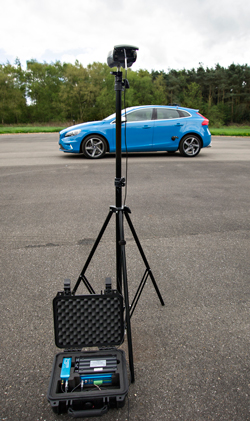 Traditionally Pass-by Noise testing has required two operatives to conduct a full range of tests, with the VBOX Pass-By Noise solution, however, only one operative is needed. Microphones placed within the test area output to a VBOX Mini Input Module, which in turn continuously transmits the converted sound readings to the VBOX 3i GPS data logger mounted on the test vehicle.